We are intelligent . We don't settle for just getting brands noticed, we make them risk takers
remembered

.
We work with market leaders and challenger brands to help them discover—or rediscover—their purpose, as well as what makes them stand out. We help them establish their vision, craft their story, and deliver it to real people in real time. And that gets real results.


Heart & Soul is designed to be different and that's what clients love about us. We use truths that are human, creative that's culture shifting, and a media reach that's national, while still delivering personalized experiences. Bottom line, we help brands drive conversion through human connection. Plus, we break the agency mold by doing all of it quickly, efficiently, and affordably.
'Experience' is an understatement.
We might be the new kids on the block, but we've been around it plenty of times.
---
Get to know Heart & Soul
We figured you might have some questions, so we worked one step ahead.
01
Who are we?
We are a tight-knit tribe of die-hard storytellers, decorated with more than a century of combined local, national, and global expertise.

Our fiercely creative, independent agency is strategically built for brands who want to transform.
02
What do we do?
We help brands discover and communicate their purpose so that, together, we can unearth ideas that transform impartial customers into outright brand fanatics and move communities, industries, and the whole world forward.
03
Why do we do it?
We're people with big hearts who want to make a big difference through creativity that changes the way people think, feel, and live.

We're determined to help brands break through the noise with the kind of purpose, personality, empathy, and emotion that truly connects.
04
Do we have a media specialty?
We like to think of ourselves as medium chameleons in a digitally driven world. You'll find us anywhere and everywhere, as we constantly adapt to wherever culture congregates.
05
What's it like to work with us?
We are natural extensions of your team. We listen attentively, create intentionally, and always act with humility.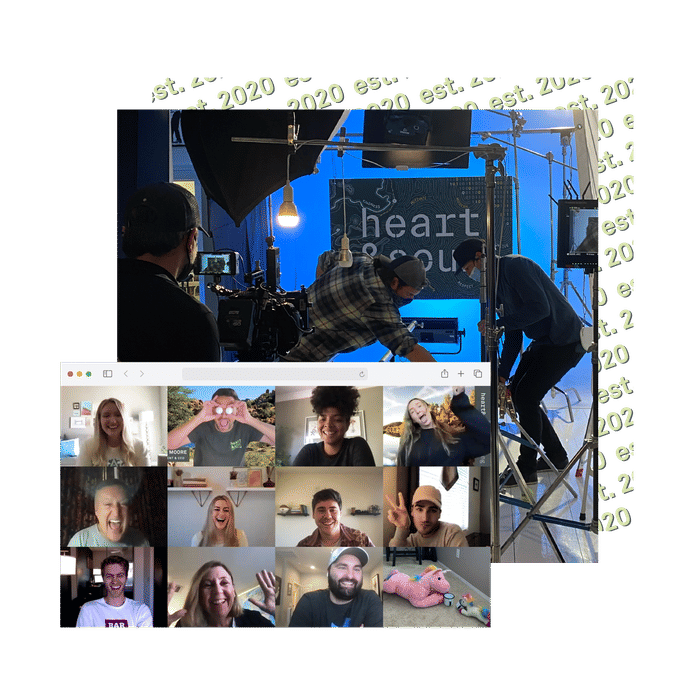 ---
Got a few? Here's us in two.